What is a Birth Doula?
By Annette Scott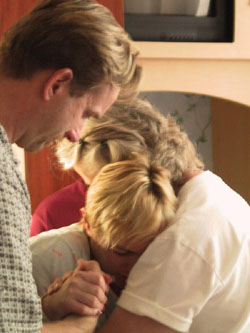 The word, "doula" comes from the Greek word for servant. She is a knowledgeable, experienced companion – who stays with the mother and partner through labor and birth offering emotional support, encouragement and wisdom.
Doulas do not perform clinical tasks such as heart rate checks, or vaginal exams but rather use massage, aromatherapy, reflexology, positioning suggestions, etc., to help labor progress with as much ease and natural flow as possible. A doula helps to lessen the anxiety, counteracting stress with quiet reassurance and the enhancement of the unique talents and strengths the laboring mother and her partner bring to the birth. A trusting, relaxed mother is able to continue producing oxytocin (the hormone responsible for uterine contraction) thereby keep the labor in its normal rhythm while diminishing the perception of pain greatly.
Prior to labor, a doula meets with the woman/couple one or two times before the birth. During these prenatal visits, they discuss their ideas of what their birth will be like and what expectations they have for their doula and other members of the birth team. They discuss the issues of highest importance to the mother. The doula empowers them to help themselves achieve their expectations.
Following prenatal contacts with the woman/couple, the doula is then on 24-hour call for usually 2 weeks before and after the due date. During early labor, the doula and her mother stay in touch and when the mother feels the need for additional support, the doula will begin continuous contact either at home or birth center in the hospital. She suggests comfort measures, positional changes, and responds to the mother's and partner's needs. In addition to emotional support, doulas work to assist the client in obtaining information for the client to make informed decisions regarding medical procedures. The doula usually remains with the mother until a few hours after the birth. She usually has a postpartum contact as well to discuss and integrate the birth experience.
A Doula Provides:
* Explanations of medical procedures and interventions;
* Emotional support;
* Advice during pregnancy;
* Exercise and physical suggestions to make pregnancy and childbirth more comfortable;
* Help with preparation of a birth plan;
* Facilitation of communication between members of laboring woman's birth team;
* Massage and other non-pharmacological pain relief measures, aromatherapy, any other non-medical comfort techniques she may be trained in;
* Positioning suggestions during labor and birth;
* Support the partner so that s/he can provide support and encouragement to the laboring woman;
* Help to avoid unnecessary interventions; and
* Help with breastfeeding preparation and beginning breastfeeding.
Schedule a FREE Doula Consultation Session with Margaret Wilcox. This may be combined with her other services. After your FREE consult you may wish to book your Birth Doula Services. See her Bio for more details.