Introduction to Polarity Balancing
By Dawn Boudreaux, LMT
Healing Arts Practitioner and Certified Polarity Therapist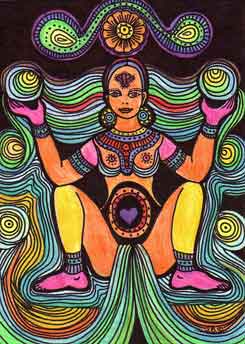 Dawn Boudreaux, a Certified Polarity Balancing Therapist and Nationally Certified Licensed Massage Therapist, has recently relocated to Boulder, Colorado from New Orleans, Louisiana. She has trained in various therapeutic massage, bodywork and energy work modalities over the last eight years. Dawn enjoys taking an eclectic intuitive approach to bodywork, weaving various forms of energy work such as Reiki and the Ayurvedic principles of Polarity Therapy into more familiar forms of massage including "Deep Swedish," Shiatsu and Reflexology.
What is Polarity Balancing?
Polarity Balancing is a wonderful introduction or complementary approach to the world of body and energy work! A very gentle yet profoundly deep-acting energy-based healing system, Polarity Balancing uses a light touch to assist a client in achieving homeostasis (neutral balance) which may result in the improvement of all bodily systems, functions, energy levels and mental clarity.
The human body, like everything else in the Universe, is made up of positive, neutral and negative energy currents. When pain or various physical/mental/emotional imbalances arise, it may be an indication that the polarity of the individual is "off." This may be due to any number of factors including stress, diet, structural misalignment, etc.
While Polarity Balancing is based on the ancient Ayurvedic System of healing, Dawn has been trained in a very modernized style of this work. She has learned to incorporate the balancing of the Cosmic Five Elements (Ether, Air, Fire, Water and Earth) while working with contemporary conditions such as Fibromyalgia, Restless Leg Syndrome, Parkinson's, Alzheimer's, Irritable Bowel Syndrome (IBS) and many others (see below for a partial list of sessions offered).
What Could A Client Expect During a Polarity Balancing Session?
Polarity Balancing may be experienced by itself or in addition to other forms of therapeutic massage and energy work. During a session clients may remain fully clothed while lying on a massage table or shiatsu mat on the floor. The work consists of a very light, gentle touch while the practitioner reconnects the Elements that are out of balance according to the symptoms clients are presenting chronically or acutely. The location of points worked during sessions depends on the particular imbalance. For instance, if a client has complaints of shoulder pain, one specific hold would be shoulders – kidneys – calves. This seemingly simple connection of the Air Element will help to realign the energetic body, lending support to the organs and systems which physically rely on this connection to flow properly. Therefore, the same hold would be indicated for a client with kidney stones. Any time there is pain or dis-ease, the core of the imbalance lies at the energetic level due to a short circuit in the electricity of one or more elements.
What Does a Polarity Balancing Therapist Do During a Session?
The therapist will do an intake or client evaluation at the beginning of every session. By asking sometimes seemingly unrelated questions, the therapist gains insight into each individual's particular constitution and energetic imbalances. With this confidential information, a therapist will then proceed with a session personally tailored to the client's needs while acting as a "jumper cable" to gently hooking up the pieces of the polarity puzzle. See below for a partial list of sessions currently offered.
Who Would Enjoy Receiving / Benefit from a Polarity Balancing Session?
As my teacher says, "Transformation only takes the shifting of one molecule."
If you are ready to change your life for the better, then Polarity Balancing is for you!
Those who want:
To feel a gentle, unconditional, loving therapeutic touch
To feel peaceful physically, mentally and emotionally
To experience a blissful state of relaxation
To accelerate the body's natural healing processes
To balance body, mind, spirit and emotion
To reconnect with Spirit
To achieve and maintain structural alignment
To complement any other form of bodywork or energy work
To remain clothed during a therapeutic session
Who May Receive Polarity Balancing Sessions?
Anyone and everyone! Polarity is a gentle, non-invasive modality without contraindications. This means that individuals with conditions such as Cancer who are told to normally not receive massage will still be able to have a Polarity Balancing energy session. Similarly, for individuals with Fibromyalgia and other conditions where the skin is hypersensitive to the touch, Polarity Balancing is a wonderful way to still experience an overall body/energywork experience.
What Types of Polarity Balancing Sessions Do You Offer?
The following sessions are intended to aid the client in reestablishing balance within the energy systems of the body thus possibly promoting relief from symptoms occurring from conditions such as:
Alzheimer's
Arthritis
Attention Deficit Disorder (ADD/ADHD)
Back Session
Bi-Polar
Brain Balance
Cancer Balance
Carpal Tunnel
Chakra Balancing
Detoxification
Digestion
Endocrine System
Endometriosis
Fibromyalgia
Heart and Lung
High Blood Pressure
Hip/Pelvis/Sacrum Balancing
Irritable Bowel Syndrome (IBS)
Kidney
Mental Rejuvenation
Large Intestine
Liver and Gallbladder Balancing
Lymph
Neck
Nervous System Balance
Pain-free Session
Pancreas and Spleen Balancing
Psoas Release
Parkinson's
Reproductive System Balancing
Restless Leg Syndrome
Sacro-Iliac (SI) Joint
Sciatica Balancing
Shoulder Balancing
Sinus Relief
Spiritual Balance
Structural Alignment
TMJ Relief
Thyroid Balancing
Polarity Balancing sessions offered by Dawn Boudreaux in New Orleans, Louisiana. Read her Bio .
Learn more about Australian Bush Flower Essences formulated by Dawn.
Learn more about Essential Oils formulated by Annette.