Benefits of Kundalini Yoga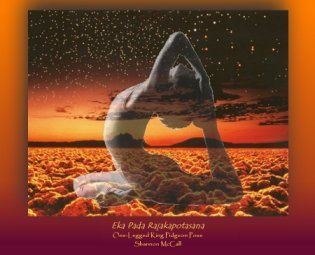 Ong Namo Guru Dev Namo~
I calm my higher-self to help me do my best.
Kundalini Yoga, as taught by Yogi Bhajan, is much more than a system of physical exercise; it's a dynamic, powerful tool for expanding awareness. An integrated system of exercise, breath control, and meditation that has been practiced in India for millennia, it's safe, comprehensive, and simple.

Kundalini yoga combines yoga asanas (postures) with pranayams (breathing techniques), resulting in a quick and vigorous workout. It boosts the endocrine, immune, nervous, circulatory and lymphatic systems. It is excellent for those who work with energy or have migraines, sinus infections or autoimmune diseases. It promotes physical health, stimulates the mind's potential, and opens your innermost being to the divine.

This is a yoga for households—for people who have to cope with the daily challenges and stresses of holding jobs, raising families, and managing careers. You don't have to leave your home or sit in a cave. Even spending three minutes a day meditating or stretching into a Kundalini Yoga posture at your desk provides benefit.

Kundalini yoga can be practiced by anyone. Even those with a handicap or injury can practice the pranayams while sitting. By simply breathing you can raise your heart rate, stimulate your metabolism, detoxify, curb cravings and relax the body.

Your muscles are controlled by your nerves and your nerves are controlled by your glands and your glands are controlled by your breath. Breath is the energy of life. Breathing is a tonic for the nervous system. When you practice Kundalini yoga, you have nerves of steel. You won't be easily agitated and feel much more in balance. When you breathe, breathe into your belly, create space for the breath to fill.

In Kundalini, we meditate between exercises to integrate the work we've done in the physical to the spiritual. By saying to yourself "Sat" upon inhale, and "Nam" upon exhale, you work even deeper as you call upon the divine energies of love. By closing your eyes and focusing on your Third Eye Chakra, located in the middle of your forehead, between your eyes, you open up your intuition and your connection to spirit. In some poses this may be difficult. Staring at the tip of your nose will help keep your balance and still involve interaction of that Third Eye.

Here is a Kriya (set of poses) that will boost your immune system and open your Heart Chakra.

OVER THE TOP – Stand with feet together. Put your hands behind neck, interlacing your fingers and opening your chest. Inhale as your body is centered, then exhale and Bend to left. Inhale center, exhale bend to right. Keep alternating sides making sure to take a complete breath when centered before exhaling to the side.

IMMUNE SYSTEM WALK – While standing, start marching in place, alternating hands and feet. Bring your right knee up as your left arm comes up to your heart center, stimulating your thymus gland. Then march your left knee up as your right arm up comes up to your heart. Keep marching at a good pace, inhaling up and exhaling down.

FLYING HIGH – Sit in Lotus (Indian style) position. Place your hands at shoulders with your thumbs behind shoulders. Inhale head up to the sky, shoulders and arms back. Then exhale, arms and elbows meeting and head forward. Keep going back and forth at a good pace. Inhaling back and exhaling forward.

NOTE: See the Breath of Fire exercise listed in my Our Divine Breath Article listed on this website.
Kundalini Chant:
HAR, HAR, HAR, HAR, GOBINDAY
HAR, HAR, HAR, HAR, MUKANDAY
HAR, HAR, HAR, HAR, UDARAY
HAR, HAR, HAR, HAR, UPARAY
HAR, HAR, HAR, HAR, HARIANG
HAR, HAR, HAR, HAR, KARIANG
HAR, HAR, HAR, HAR, NEARNAMAY
HAR, HAR, HAR, HAR, AKAMAY
Schedule a Breathwork (pranayama) Session in Tampa, FL.
Schedule a private Kundalini Session in Tampa, FL.
Purchase Chakra Workshop in the Web Store, E-books.
Return to Articles.
Return to Homepage.