Laurie Grant's ARCH Story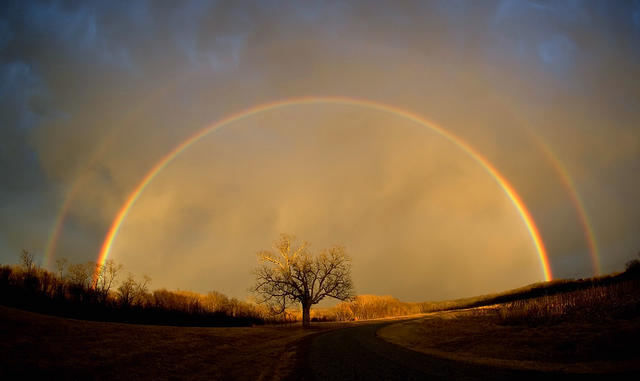 In February 1996, Laurie Grant was in a car accident and seriously injured her right knee. At that point she had been doing Reiki for about eight years and psychic healing work for approximately 20 years. So of course she used Reiki and psychic healing energy on her knee numerous times per day, but with minimal success. The pain subsided a little bit but that's about all. She felt very frustrated because she believed that Reiki ought to be able to fix it! She even went to other Reiki Masters to see if they could help, just in case she wasn't allowing the energy coming through to heal herself. But nothing helped her very much.
Then in December of 1996, she was teaching her first Reiki intensive in Honolulu and discovered the Kahuna healing stones on Waikiki Beach. At that time you could actually sit on them, which she did and experienced an amazing healing on her knee. It was then that she felt drawn to the Hawaiian petroglyphs of Rainbow Man and Rainbow Woman and bought pendants for many of her friends with those symbols on it. She started to read one book on Kahuna healing, but when the author started talking about sacrificing roosters, she stopped. Now she knows that most ancient Hawaiian healing does not involve sacrifice.
Her healing didn't seem to last, however, and her knee got progressively worse. On subsequent trips to Hawai'i, she always stopped at the Kahuna healing stones (one more time before they were fenced in, and three or four times after) but experienced no further healing. Meanwhile her Reiki classes were booming and she was privileged to witness many miracles as she and her students did Reiki on themselves an others. But her knee was degenerating. The best knee surgeon in the country wanted to do surgery on it, that would keep her off her feet and in rehab for three to six months. She was feeling very discouraged.
Then in July 2000, she tore the MCL (medial collateral ligament) on the "good" side of her right knee, five days before she was supposed to go to Hawai'i to teach a Reiki intensive! The orthopedic surgeon told her she shouldn't go and that the tear would take months to heal. She went anyway on crutches. The hotel she was teaching at was right across the street from the Kahuna healing stones (a new plaque on the fence surrounding them calls them the "Stones of Life").
On July 5th, 2000, the morning after the night she arrived, she hobbled over to the stones on crutches, her knee swollen so large that she could not have put her pants on over it. Standing in front of the stones she started praying. She honored the stones and the Kahuna that had placed their mana (divine power) in them. She asked for a healing saying that if she was granted a permanent healing on her knee that she would do whatever she could to get this mana energy out to the world.
Suddenly a column of shimmering rainbow energy came down through her that she could see and feel. When it came through her hands it was so hot that she felt almost as if her hands were being branded! Her MCL was instantly healed and all the swelling was gone. Her whole knee felt normal for the first time in 4 1/2 years! Then she had a vision.
She was part of a group of ancient Rainbow People. "There were about 50 of us, mostly women, but a few "pretty" men. We had lighter bodies than the hard dense ones we have now. We were standing in a circle around a large pond holding hands. There was a bridge in the center. As we crossed over the bridge we made a commitment to remember the ancient rainbow wisdoms, and that when the time was right, we would come back again and spread these ancient secrets to all races and cultures."
Then she saw and felt a circle of rainbow spirits, including Hawaiian and Tahitian gods, goddesses and Kahuna surrounding her. They reinitiated her (she had been initiated in the prior life). They told her that the time is now to get their ancient teachings out into the world and that she had been chosen as the one to do it. She agreed to honor her commitment.
She felt great bliss! Much to the surprise and amusement of nearby surfers, she ran into the water fully clothed, laughing with delight! As she slowly walked out, a grinning surfing instructor asked her if she was having a good time, and did she want a boat as she had no swimsuit! Laurie bought an orchid lei and brought it to back to the Kahuna stones in gratitude for her miraculous healing!
Excited and awed from this experience, once back in her hotel room she phoned numerous bookstores to find a book on Kahuna healing. Finally one bookstore said they had just sold the last one but there was someone she could talk to. She spoke to this woman and she immediately said that she saw rainbow all around her! It turns out that she is a psychic schooled in the Ho'omana (Hawaiian spiritual knowledge). She booked an appointment with the psychic for the next day.
The psychic began the reading by saying that the Kahuna Nui (Hawaiian high priests and priestesses) had 'come in' at 3:30 AM that morning and told her that the Anuenue Kahuna Nui (the rainbow goddess of transformation) had been with Laurie at the stones. She went on to say that the Hawaiians distinguished between 35 different kinds of rainbows, and the one that Laurie was working with was an ancient type of rainbow called the Kahili Rainbow, a rainbow that comes straight down from the clouds and heavens. The psychic now had Laurie's attention since all she knew prior to this was that Laurie had a healing experience at the Kahuna healing stones.
Next the psychic said that the 1st Kahuna Nui was there and wanted to initiate Laurie to activate the ancient memories. The initiation felt very similar to what Laurie had experienced at the stones. The psychic said that the Kahuna Nui would continue to work with her (and had been since the healing), altering her DNA, removing past codes, and putting in new ones. The 1st Kahuna Nui also said that Laurie was to initiate others. Her bliss was getting higher and higher.
Then Laurie's left brain kicked in! Was all of this true, or was the psychic just making this all up, and was just good at reading Laurie's pictures? Laurie sought confirmation from other sources.
She opened the Mana Cards, The Power of Hawaiian Wisdom that she had bought earlier and asked the question: Was everything that she was experiencing with the rainbow energy for real? She pulled out the Anuenue (Rainbow) transformation card! It said:
"The rainbow family is comprised of people from all races and walks of life who remember the ancient wisdom found in all cultures and actively use it to perpetuate harmony and wholeness in the world around them. It has been prophesied that there will come a time when those who are related through the rainbow will teach these ancient wisdoms to those who have forgotten."
That card was great confirmation, but Laurie wanted more. She prides herself on being a rather grounded psychic (I know, an oxymoron) and this was all getting a little too "woo woo" for her.
The psychic took Laurie to meet a native Hawaiian friend of hers, Maui. She told him the story about her vision. He said that ancient priests and priestesses with "beautiful" men and many women came from far away with magical powers and overtook the cannibals. Maui said that just two months prior an ancient bridge had been discovered buried underground just two blocks from the Kahuna stones on Waikiki that was thought to have been used for rituals. Laurie had major "truth" bumps! In Hawaiian mythology the bridge represents the rainbow and transformation. Laurie also mentioned to Maui that red and yellow birds had been coming to her lanai (porch) every morning. He said that these birds live only in the rain forests, are never seen in Honolulu, and that it was an omen.
The psychic also took Laurie to an ancient heiau (sacred temple). As she walked through the gateway she felt and saw four light beings from the four mystery schools (of love, truth, knowledge, and wisdom), acknowledging her and welcoming her home.
Right before she had to leave Hawai'i and return to Boulder, a rainbow appeared over the ocean (which I guess is rare) just long enough for her to take a picture. She cried when she said goodbye to the Kahuna stones, but she should not have been worried. The energy, transformation, and information came back with her.
I, Margaret Wilcox, am honored to have Laurie Grant as my Reiki teacher and now my ARCH Master Teacher. She has initiated me to all of the ARCH levels and is no longer teaching. I completed my mastery with Kathy Georgen. I offer Long-Distance ARCH Master Treatments. Go to Sessions to order.